BARÚ announced the hire of Jeremy Epstein as its new Associate Digital Director. Mr. Epstein brings his senior skills in general market digital campaigns and media plans for major brands in entertainment, sports and retail, including AMC Networks, Hulu, the NBA, Apple Music, Expedia Inc., Bluefly and Uber.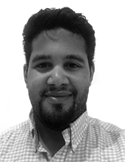 Jeremy Epstein was previously with Fetch, a division of Dentsu, in New York, serving as Mobile Strategy and Innovation Manager, where he developed media plans and cross-channel attribution solutions for mobile campaigns. He also spent several years with Media Storm as Digital Media Supervisor, working with entertainment and sports clients as the team leader for multiple brand launches across social networking platforms. Epstein will helm the digital team at BARÚ, which includes Media Planner/Buyer Rosalva Orozco and Senior Social Strategist Heather McDonald.  
"The demand for our digital capabilities has become central to our clients' media needs.  Jeremy is the perfect addition to our team because of his expertise in digital and his deep knowledge of cross-channel marketing solutions, including Out Of Home," stated BARÚ CEO Elizabeth Barrutia. "At BARÚ our entire team is cross-trained to deliver integrated marketing campaigns. We know that Jeremy will add tremendous value as we continue to scale our business."
"Independent agencies like BARÚ are delivering some of the most exciting and innovative thinking in the industry," added Jeremy Epstein. "Having come from a large global media company, I'm excited to join a group that has such agility, and emphasizes personalized attention and service to their clients."
Mr. Epstein will immediately begin overseeing digital strategy for some of BARÚ's top accounts, including Treasury Wine Estates, Del Real Foods, Warner Brothers and Focus Features.