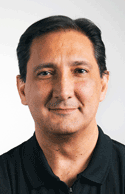 In this role, Xavier Turpin will lead multicultural strategy for Gravity's clients

Prior to joining Gravity and as Director of Multicultural Marketing at Dunkin Donuts, Xavier revolutionized the company's Total Market Practice throughout Dunkin's marketing organization, creating a 'Center of Excellence' elevating the implementation of multicultural strategies and increasing the company's ROI. Along with this, he has led emerging market initiatives for leading companies such as Bellota/Corona, Fiskars, Makita and Vertis, just to name a few.
In his new role, Xavier will place a great focus on Gravity's client General Motors' multicultural and diversity initiatives.