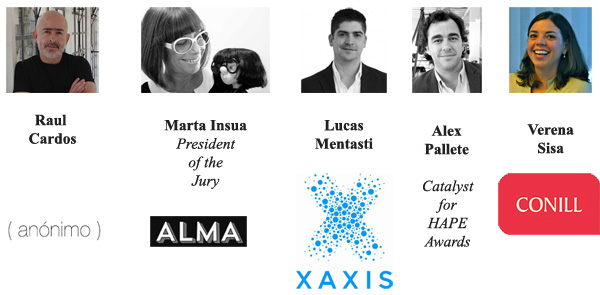 HispanicAd.com is proud to announce the Judges for the HispanicAd.com 2014 Hispanic Account Planning Excelencia (HAPE) Awards competition. The awards will be bestowed during the 3rd Annual U.S.H. Idea Awards at Association of Hispanic Advertising Agency (AHAA) Annual Conference in Miami, FL in April 2014.
This is an exciting year for the HAPE Awards, we changed the rules, change the categories and expanded the scope and experience of the Judges to fit the ever changing needs of our competition for analysis, creation, implementation of Insights and the process of Account Planning in the US Hispanic Market.   
AHAA will be creating a series of webinars dedicated to the winners of the 2014 HispanicAd.com HAPE Awards.
The Judges are:
Raul Cardos - President & Founder of  Anonimo - - - Mexico City, Mexico
Marta Insua - VP Strategic Insights of Alma - - - Coconut Grove, Fl
Lucas Mentasti - Managing Director of XAXIS Latin America - - - Miami, FL
Alex Pallete -  Catalyst fo the HAPE Awards - - - Madrid, Spain
Verena Sisa Thompson - VP Chief Strategy Officer of Conill - - - El Segundo, CA
This year's event will be hosted by Coconut Grove, FL based Alma.