The key performance indicators most commonly tracked by retail executives may be distracting their attention from broad, omnichannel goals and performance.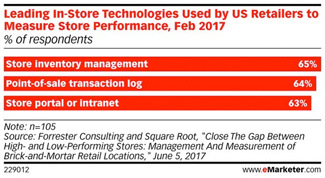 A survey of retail executives conducted by Forrester for Square Root, a customer experience solutions provider, found that many retailers focus on traditional financial metrics, such as average sales per transaction.
Asked what in-store technology they used to measure store performance, the most commonly cited answers were store inventory management, point-of-sale transaction log, and store portal or intranet.
These solutions, Forrester argued, focus attention on individual outlets and do not necessarily address questions about data and integration across all stores.
Focusing on store sales alone as a measure of performance is too narrow a view, especially in the omnichannel world consumers live in, agreed eMarketer analyst Yory Wurmser.
While the snaps may be fleeting, Snapchat Geofilters are an extremely effective way to engage with your customers. Brands can create custom Geofilters that become accessible in specific locations, like in your business! Learn how the Yext Knowledge Engine can help with your location data.
"Retailers would argue that gross margins or average sales per transaction are a decent proxy for store value, but in an omnichannel world, it's too narrow a view. A great shopping experience can lead to online sales or better loyalty," he said.