By Crystal Albanese, senior manager of committees and conferences at ANA
There are only a few weeks left before the ANA Multicultural Marketing & Diversity Conference, presented by Time Inc. kicks off Oct. 9-11 in Los Angeles, Calif. Jennifer Lashua (pictured), a featured speaker at the conference, will present about Intel's Diversity in Technology Initiative. Read on to learn more about what she'll be sharing during her presentation, why multicultural marketing is so important in today's marketplace, and what she sees as the future of multicultural marketing.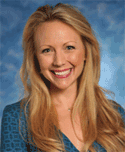 What will you be speaking about at the 2016 ANA Multicultural Marketing and Diversity Conference? 
In early 2015, Intel announced its Diversity in Technology Initiative, setting the ambitious goal to be the first high technology company to reach full representation of women and underrepresented minorities in its U.S. workforce by 2020. Intel committed $300 million to support this goal and accelerate diversity and inclusion—not just at Intel, but across the technology industry at large. Attendees to this session will learn how Intel approaches achieving this goal with internal and external efforts focused on both diverse hiring practices and inclusion programs.
In today's marketplace, why is multicultural marketing so important?

Marketers today have the opportunity to speak to each individual they're marketing to – uniquely. In this data-driven era of personalized marketing capabilities, it's unacceptable to serve the same message or the same ad to the whole audience – you must think about each individual. Marketing to multicultural audiences is no different. Once we understand the characteristics, mindset, passions of each audience we seek to reach, we can tailor our approach to best meet their needs. Additionally, it is going to be far more effective to market to multicultural audiences if the marketing team developing the campaign is a diverse composition and brings many unique perspectives to the table.
What do you see in the future for multicultural marketing? 
I see this as THE way companies do marketing. Brands are becoming much savvier in reaching customers because we must. The customer is in control of what they want to see, and if a piece of marketing wasn't designed in a way to be relevant to them or sensitive to their needs, they will choose to click to another site, turn off the TV or block the ad. Skilled marketers, like the ones you're hearing from at the ANA Multicultural Marketing & Diversity Conference, are already using data to drive their marketing efforts – including insights around multicultural audiences and how to reach specific demographics and segments. It doesn't matter as much who the audience is – the key is once you've identified that audience, understanding their needs, then explicitly design your marketing & communications with them in mind.
To hear more from Jennifer Lashua, join us at the 2016 ANA Multicultural Marketing & Diversity Conference, October 9–11, at the JW Marriott L.A. Live in Los Angeles, Calif. She'll be joined by CMOs and top marketers from Clorox, Prudential, Wells Fargo, Target, Nestlé, Lane Bryant, Pernod Ricard USA, and more. Plus, find out who wins the ANA Multicultural Excellence Award in the Hispanic category!