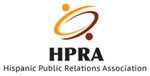 The Hispanic Public Relations Association (HPRA) is proud to recognize the industry's leading pioneer and journalist of the year at the 2017 HPRA National ¡BRAVO! Awards dinner at The Lotte New York Palace Hotel in NYC on Wednesday, October 11, 2017.
Honorees/Masters of Ceremonies include:
Pioneer of the Year: ROSEMARY MERCEDES, Executive Vice President and Chief Communications Officer for Univision Communications Inc. (UCI)
Journalist of the Year: ARMANDO CORREA, Editor in Chief of People en Español
2017 Bravo! Awards Co-hosts: Fox News' National Correspondent BRYAN LLENAS and Vme's 'SuperLatina' host, GABY NATALE
"It is on us to tell our stories," asserted Andy Checo, co-chairman of the HPRA National ¡BRAVO! Awards and senior director at Havas FORMULATIN.  "The HPRA's ¡BRAVO! Awards are a celebration of individuals who are shaping our future and impacting our community. We are honored to be recognizing Rosemary and Armando during this year's event and to have Bryan and Gaby as the storytellers who will narrate the industry's most prestigious awards program."
Mercedes, evp & CCO for UCI, is an accomplished communications leader with nearly 20 years of public relations experience, who engages media and influencers through a lens that represents the increasingly diverse new American mainstream, while strategically positioning Univision as the innovative and influential company it is today.
Correa, EIC of People en Español, has more than 20 years of experience in Hispanic media, currently overseeing the editorial content of the magazine, social media strategy and events like 50 Most Beautiful (New York), the 25 Most Powerful Women (Miami), as well as Festival People en Español (New York). Correa is also the author of the internationally acclaimed novel, The German Girl.
Returning for a second year, FOX News' Llenas will serve as co-host of the event along with three-time EMMY award winner, TV host and HarperCollins author of the recently released book El Circulo Virtuoso, Natale.
Partners of the 2017 HPRA National ¡BRAVO! Awards include Coca-Cola, Univision Communications Inc, Wells Fargo, Moët Hennessy, Havas FORMULATIN, Ford Motor Company and Cision PR Newswire. Media partners include HispanicAd.com and HispanicPRBlog.com.