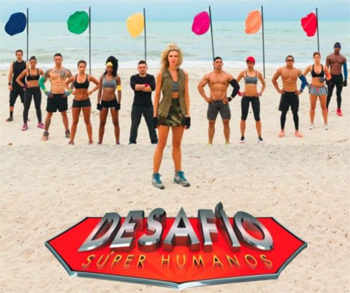 Azteca America will broadcast "Desafío Súper Humanos", the most extreme season yet of the reality adventure series "Desafío", beginning Monday, January 8.  A group of extraordinary men and women will face off in a series of strenuous physical challenges to win the competition's top prize.
This time, 42 high-level athletes spanning disciplines such as CrossFit, parkour, boxing, and swimming, among others, will descend upon the heavenly beaches of Trinidad and Tobago to fight for their teams, to proudly represent their region, and to demonstrate why they have come to be known as "super humans."
Unlike previous seasons of this reality show ("Desafío África", "Desafío Marruecos", and "Desafío India"), contestants this time were selected based on their athletic accomplishments, which is why the tests in this competition will be more challenging and strenuous than ever before.

The "super humans" will be divided into six groups and will face off in territorial challenges, immunity challenges, final challenges, and elimination challenges.
Each week, one participant will leave the competition and the teams will change their habitat depending on the results of the physical tests.  The team with the best results in the challenges will earn a spot in the highly-coveted Playa Oro and will preserve their team intact.  In the second part of the competition, however, participants will work to eliminate each other regardless of their team until only one survivor remains.
As in previous editions, this season will be hosted by Margarita Rosa de Francisco, who will guide contestants through the challenges.
The super humans are ready to begin the most strenuous test of their lives and television audiences in the United States will witness the evolution of these athletes.  "Desafío Súper Humanos" premieres Monday, January 8 at 8 pm/ 7 C on Azteca America.