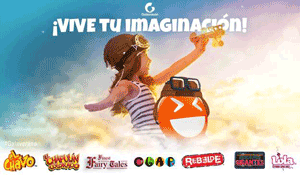 School is out, so the Galavisión Network is launching its summertime daytime lineup: Galaverano! Special kid-themed series, comedies and cartoons to keep the whole family entertained all summer long.
With some of the most beloved TV characters and stories of all times, the line-up includes:
El Chavo: The Animated Series
Monday, Wednesday & Friday 10 a.m. ET/PT
Animated stories based on one of the most beloved character of Spanish-language television, El Chavo. This mischievous 8-year-old is not the only one on this adventure as he is joined by friends from his neighborhood.
 
El Chapulin Colorado Animado
Tuesday & Thursday 10 a.m. ET/PT
Chapulin Colorado Animado takes viewers on the surreal adventures of the popular bumbling hero with a noble heart whose youthful enthusiasm overcomes his illogical logic to always save the day. This new animated version, just like El Chavo animated series has done, will bring a fresh new take to a whole new generation of viewers that can enjoy these classics their parents grew up with.
 
30 Fairytales
Monday to Friday from 12 p.m. & 5 p.m. ET/PT
These stories are based on the original German versions of the world famous fairytales from the brothers Grimm bringing thirty spectacular stories of romance and inspiration from their beloved collection. Experience the beauty, magic and enchantment that awakens through these beautifully told fairytales.

Clap El lugar de tus Sueños (Teens Series)
Monday to Friday from 1 p.m. ET/PT
CLAP is the school where three childhood friends, Valentina, Montserrat and Helena, are students, hoping someday to become great artists.

Rebelde (Teens Series)
Monday to Friday from 2 p.m. ET/PT
Six teenagers with different lives and personalities attend a prominent private school with only one thing in common: their vocation and passion for music.
 
Pequeños Gigantes USA 2
Monday to Friday from 3 p.m. ET/PT
Young entertainers (children ages 6 to 11) compete in a talent search with hopes of being recognized as Hispanic America's most gifted little entertainer. The competition will test their artistic aptitude and ability to work together and assume responsibilities beyond their years. Dancers, singers, musicians, and entertainers across other disciplines will battle it out. Talent and charisma will decide who becomes the next Little Giants!

Lola erase una vez (Teens Telenovela)
Monday to Friday from 4 p.m. ET/PT
A poor but beautiful girl named Lola meets a rich "Prince Charming" named Alexander Von Ferdinand and falls in love with him, but she will still need to fight her evil stepmother and stepsisters.