UNIVERSO, is set to premiere season three of the hit celeb-reality "The Riveras" starring Chiquis, Jacqie, and Mike, Jenicka and Johnny, Sunday, March 11th at 10pm /9C. The 14-episode season offers viewers a lens into the lives of the children of the late Regional Mexican music legend, Jenni Rivera as they take on life's challenges by supporting each other. The top rated show is the only English-language reality about a Hispanic family in the U.S. and its relatability has been the key to the show's success. "The Riveras" reflects the diversity in this country, and the fastest growing population.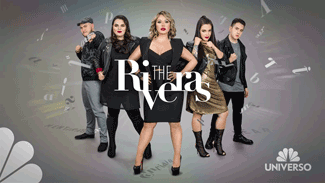 "I feel the success of The Riveras has been the fact that we are very raw and honest" stated Chiquis Rivera, Executive Producer and star of The Riveras. "We are all going through changes and are there to support each other. I think my Mom would be so proud. With that being said, we are perfectly imperfect."
"We are excited to present this new season filled with unfiltered drama and laughter" said Bilai Joa Silar, Senior VP of Programming & Production for UNIVERSO. "Fans will discover love, secrets, unexpected break ups, brave revelations and witness the family's strength as they face challenges and chase their dreams."
In this new season, Chiquis gives love another shot with boyfriend Lorenzo Méndez, but struggles with commitment issues as she continues building her empire, touring the country and working on her second studio album titled "Entre Botellas." Jacqie decides to separate from her husband of five years and struggles to balance her new life as a single mother. Her 70 pound weight loss brings Jacqie confidence and courage as she follows her passion for music. Mike continues single parenting his autistic daughter Luna and steps out of his comfort zone and tries stand-up comedy. Jenicka breaks the news to Mike that she will be moving back with Chiquis, and embraces her curves to pursue a plus-size modeling career. Johnny, the youngest of the siblings graduates from high school and opens up publically about his sexuality.
"The Riveras" is Executive Produced by Irune Ariztoy for UNIVERSO and Edward Paige and Liane Su for Blank Paige Productions.