US consumers have never completely switched over to using digital coupons. Even with the convenience mobile coupons offer and the rise of discount apps, only 52.0% of the adult population will use digital coupons this year, eMarketer estimates.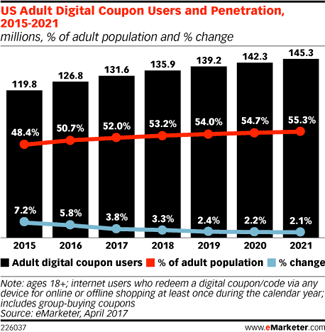 That's just a 3.8% increase over 2016, and user growth will continue to slow throughout the forecast period.
Retailers can attest that the biggest hurdle for uptake is getting digital coupons in front of consumers. Retailers have seen, at best, scattered success in the use of online and offline coupons through various digital channels, compared with that of print circulars. People still seem to take comfort in the familiarity of circulars and finding their weekly coupons all in one place.
In a February 2017 survey of sources that US grocery buyers use to find deals on grocery items, Market Track found that 59% search print circulars. Only 32% of respondents use digital coupons to find deals, while 23% use the digital version of a print circular. Just 12% said they looked for grocery deals on mobile versions of retailers' sites.
Mobile coupons will be the main driver of overall digital coupon usage over the next few years. eMarketer estimates that 92.8% of US adult digital coupon users will access mobile coupons this year.
And more people are expected to adopt this way of finding deals. eMarketer expects mobile device coupon usage will increase 10.1% in 2017, spurred by in-store use of smartphones to search for deals. Partially because of this activity, nearly 57% of mobile device internet users will use a mobile coupon at least once this year.
Courtesy of eMarketer