Moms in the US spend more time on the internet than with either television or radio, at 3 hours 31 minutes of usage per day, according to a survey of mothers conducted by Edison Research in January.
And what are they doing once online? They're spending a lot of time on social media, research suggests. Some 93% of mothers polled said they used a social networking site or service—up from 88% in 2016.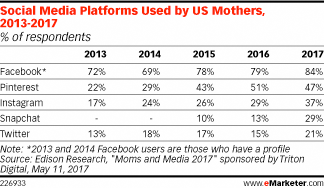 In addition, 62% of respondents who used social networks said they checked their accounts at least once per day, compared with 56% last year.
Facebook is the most popular social media platform among mothers, cited by 84% of those polled. Pinterest—once considered the darling of heartland moms—has seen its fortunes among the demographic fall somewhat. Only 47% said they used the platform in 2017, down from 51% last year.
Meanwhile, Snapchat has found a willing user base among US mothers. Uptake of the video-focused platform more than doubled between 2016 and 2017, Edison found, from 13% to 29%.
Twitter, which has been battered by plateauing growth in its overall user base, appears to hold appeal among mothers. The survey found that the percentage of mothers who used the microblogging service grew from 15% last year to 21% in 2017.
Courtesy of eMarketer.