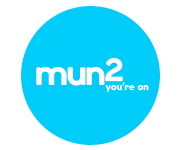 mun2 will premiere its one-hour "mun2 News Special Hecho en America" on Saturday, September 28 at 4:00 p.m. EST/ 2 p.m. CST.  The English-language news special that is subtitled in Spanish continues the networks showcase of the personal success stories of Latinos who are changing politics, culture and business in the U.S.  From actress Jessica Alba, Senator Marco Rubio, Girls Scouts CEO Anna Maria Chávez, comedian George Lopez, boxer Marlene Esparza, The National Council of La Raza (NCLR) President & CEO Janet Murguía, Chef Jose Garces to recording artist Christina Aguilera, this first person, intimate account of Latinos who are breaking down barriers features over two dozen Hispanic leaders in their own chosen field.
Premiering as part of the network's Hispanic Heritage month programming and presented in tandem with the NCLR's ALMA awards, the series takes a cue from the motto of the new Latino movement – "50 million strong, making it in America."  "Hecho en America" celebrates and allows the inspiring journey of Latinos achieving the American Dream to be told by those changing it.  The special features the original theme song "This Is My Home" written and performed by artist Ceci Bastida, which is also available as a free download at mun2.tv. Extended and additional interviews will also be available on mun2.tv/hecho, as well as clips from the special.
"The stories of Latino role models in entertainment, business, politics and sports is something that we feel strongly representing and presenting, " said Diana Mogollon, Executive Vice President & General Manager, mun2. "Change and progress is made by perseverance, inspiration and guidance, and all three are represented in this news special. We pride ourselves on creating news specials that show a unique perspective of Latinos making change and improving our mundo. We believe in the power of our audience and showing them how we are changing lives and society."
"Hecho" presents testimonials from the participants on their life journey, from their dream to attaining it.  Highlighting how each person communicated through differences, influence youth/young adults, personal formulas for success and public service as well as personal history,  it paints a picture of a vibrant and diverse group of Hispanic leaders and influencers.
Prominent figures sharing their inspiring journey and how they are making a difference in their community on a daily basis are: Film Producer  Elizabeth Avellan; President, Dream Act Coalition, Arizona,  Dulce Matuz; Singer  Ceci Bastida; musical group Ozomatli; Singer/Actress  Christina Aguilera; Actress/Business woman  Jessica Alba; Comedian George Lopez; Comedian Al Madrigal; CEO, Girl Scouts of the USA, Anna Maria Chavez; Chef Jose Garces; NCLR President & CEO Janet Murguia;  Senator Marco Rubio; Senator Robert Menendez; Singer Becky G; Artist/Activist Favianna Rodriguez; Artist/Activist, Julio Salgado;  Fashion Designer, Rolando Santana; Television Personality  Ana Maria Polo;  Latin alternative music artists Raul y Mexia; and  Boxer  Marlene Esparza.
The special is created by Gloria Medel Solomons, Executive Producer, mun2; Producer  Ilana Sod and Director of Photography & Editor Mariano Dabini.  "Hecho" is the latest news special for mun2, which has won awards including the Peabody award for "mun2 News Special: For My Country? Latinos in the Military" in 2007.