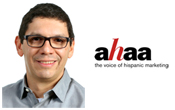 By Aldo Quevedo, Chair of AHAA and Principal/Creative Director of Richards/Lerma
Do you want to know how to grow your and your client's business by engaging the Multicultural Mainstream? Then, the 2015 AHAA Annual Conference is the conference to attend. If you haven't reserved your spot, the time to register is NOW, for we are filling up fast! And, if you're looking for another reason, we will give you five:
5.              CONTENT IS KING, and we are tackling the industry's biggest issues.
Content marketing, creative, digital, entertainment, mobile, programmatic, public relations, social media… We will also discuss Total Market in a fun, quick paced and stimulating town hall vs. speed dating format, where round tables will answer polls and deliver their reports in 140 characters or less!
4.              A top-notch faculty of A-list SPEAKERS.
Our attendees will have the best teachers, leaders and visionaries in their fields. Our speakers include CEOs and CMOs of elite brands, including Heineken, iHeartMedia, MediaVest, Pandora, Panamax and Pantelion Films, and Target. In addition, we are featuring Emmy®-nominated host of National Geographic Channel's hit TV series Brain Games and creator of viral short film series Shots of Awe, Jason Silva and Latin GRAMMY® nominated singer/songwriter and "Princess of Bachata" Leslie Grace.
3.              Breaking research from TOP FIRMS to be unveiled at AHAA
The Futures Company, Mintel, Nielsen, PEOPLE en Español, and Sequent Partners will all announce new data at the 2015 AHAA Annual Conference – including new insights and never-before-seen research on the Multicultural Superconsumer, Hispanic Millennials and Polycultural America.
2.              Crowning of new creative and marketing ROYALTY.
We will reveal the Top Five Best Ideas plus Gold, Silver, and Bronze Awards at the Fourth Annual U.S.H. Idea Awards, as well as the coveted 2015 Marketer of the Year.
1.              Networking FUN…
…Because that's what happens when you put marketing leaders, brand visionaries, media elite, and trendsetting agencies all in one place.
So download the AHAA conference app here and join us. For more information, please visit ahaa.org and follow all conference chatter on Twitter using the @ahaa handle and #thinkahaa hashtag.