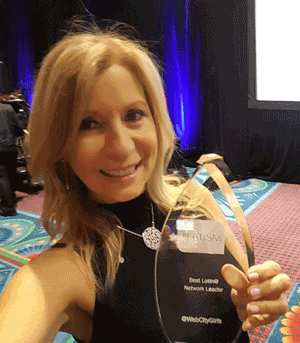 Lynn Ponder, Founder of webcitygirls.com has been recognized by her dedication and commitment to the online community with Award "Best Latina Network Leader" at LATISM 2016 Best in Tech Innovation and Social Media', beside outstanding nominees
"I am invigorated by the recognition I received this year at LATISM as Best Latina Network Leader and I am full of enthusiasm to continue moving forward creating engaging content" ~ said Lynn Ponder. The award recognizes her latest social media innovative activations #BeNumberless and #UnstoppableLATINAS.
Unstoppable LATINAS concept purpose and mission is to unite Latinas and give power to each other, through a social media LIVE series that travels to different cities across the United States sharing engaging and truthful stories with influencers and celebrities.