Pharmaceutical manufacturers, payers and healthcare providers (HCPs)—as well as a host of tech-focused newcomers—are exploring digital programs that complement standard therapies and hold promise to keep patients healthier and produce better outcomes. Known as "beyond-the-pill" or "around-the-pill" services, they have been a long time coming, and may finally be gaining traction, according to a new eMarketer report,"US Healthcare Beyond the Pill: Digital Tech and New Partnerships Bring New Life to the Industry".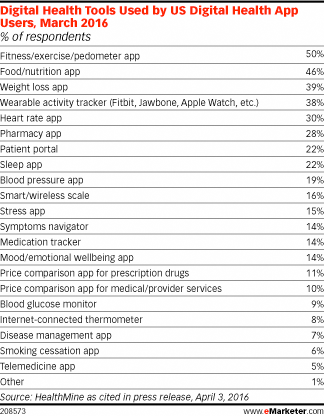 For the past several years, healthcare and pharma firms have been trying, with mixed success, to step up their beyond-the-pill programs. Early efforts included basic informational websites and simple apps designed to provide information about medical conditions and therapies.
"When the pharma industry first moved into digital technology, it was primarily in the marketing space, leveraging things like websites or HCP portals to share product information and to educate," said Amy Landucci, head of digital medicine at Novartis. "But in the last three years, we've seen a pretty big shift away from just doing digital marketing—though it's still very important—to looking at how technology can help enhance patient outcomes."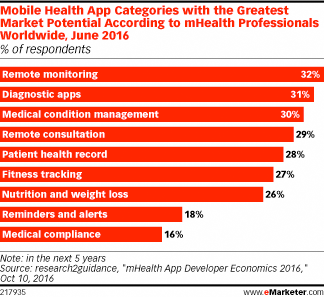 Today's beyond-the-pill solutions can collect, monitor and analyze health-related information, track patient activity, improve medication adherence, provide personalized decision support, predict medical crises and streamline medical care using a variety of advanced computing techniques. Mobile technology, the IoT and AI are three of the technologies making this possible.
Mobile and wireless technologies have taken the healthcare industry by storm. A March 2016 poll by HealthMine found that nonmedical mobile apps and wearable fitness trackers were the most common digital health tools used by US digital health app users.
As these apps proliferate, HCPs are warming to them. An August 2016 survey of US physicians by Kantar Media showed that the majority of respondents were aware of health and wellness apps and fitness/activity trackers—and would recommend them to their patients.
Mobile and wireless technologies are also becoming important to clinical care. While both the HealthMine survey and a June 2016 poll by Salesforce revealed that the percentage of US patients who owned a medically focused health tracking device was in the single digits, the use of these tools is expected to grow quickly over the next several years as the IoT gains ground.
A June 2016 survey of mobile health professionals worldwide by research2guidance found that mobile health apps related to remote monitoring, diagnostics and medical condition management had the greatest market potential.
The Kantar Media survey found that the majority of US physicians polled believed that their chronically ill patients would benefit from using mobile health and wearable devices to monitor and manage their conditions. Though there were also concerns about cost and safety, attitudes were more bullish than bearish.
Courtesy of eMarketer