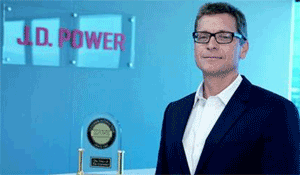 Bernardo Rodriguez, a business, technology and product design leader, has been named to the newly created position of Chief Digital Officer at J.D. Power.
Rodriguez will be responsible for advancing J.D. Power's digital transformation with responsibility for new product development, branding, marketing and mergers and acquisitions. In this role, Rodriguez will be responsible for the design and content of J.D. Power's digital interface with clients and consumers, reporting directly to Finbarr O'Neill, Chief Executive Officer and President.

"Bernardo is an accomplished business leader with proven experience to accelerate transformation of businesses through the development of data and analytics, strategic products and capabilities that drive growth opportunities," O'Neill said. "Bernardo has the ideal background to integrate various data sources into a holistic view of the consumer."
Rodriguez joins J.D. Power from Huge, the global full-service digital agency, where he served as Managing Director of Strategy, partnering with Fortune 100 companies on the design and execution of product and brand strategies, enterprise transformation and innovation. At Huge, he led projects on digital transformation and experience strategy for a $12 billion Canadian telecom company, product strategy for a $30 billion global financial institution, and a small business segment digital strategy for a $120 billion U.S. telecom company.
"I have always admired the spirit of innovation that J.D. Power brings to the industry through its continued technological advancements and unmatched data and analytics capabilities," Rodriguez said. "I look forward to bringing my digital expertise and vision to my new role and contributing to the future successes of J.D. Power."
Previously, Rodriguez served as a Managing Director at Accenture, the global management consulting and professional services company, where he led the firm's North American Digital Strategy Practice for telecommunications, media and technology.