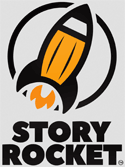 In Entertainment content is king.  But getting content into the hands of producers and decision-makers is no easy feat, even for a best-selling author. Storyrocket is an online Marketplace that allows writers to showcase their work directly to an audience of content-hungry producers for film, TV, or the web thus bypassing the traditional "gatekeepers". Storyrocket was born out of a need to provide writers with the opportunity to promote, network and ultimately get their stories optioned in the entertainment business.  The site allows members to fully detail their written works with loglines, synopses, posters, banners, cast-wish-lists, and videos like, "elevator pitches" and trailers. The online Marketplace has a free membership model with revenue sources derived from expanded project postings.
"The Entertainment World is a closed industry with many gatekeepers. Chances are if you don't know anyone on the inside or have a big star attached to your project, your work won't be seen, no matter how amazing it is.  We estimate that there are hundreds of thousands of writers globally and millions of books and screenplays that are desperate to get into the right hands, but have nowhere to go. We recognize the challenges the Entertainment Business has and Storyrocket intends to change this," says co-founder and writer, Ron Karasz.
At first glance, the online Marketplace seems to service only writers, but make no mistake it's doing a great service to producers as well.  On the flip side, producers are always looking for a great story and finding compelling content is a real challenge.  They often must go through hundreds of scripts to find one suitable match for their needs. Storyrocket's robust search engine, is a game changer. As a producer whether you're searching for a book, script or treatment, you can easily filter by genre, gender, location, era, etc. and can communicate directly with the content owner, or agent.  Production companies who used to spend a considerable amount of time and money vetting scripts from a multitude of sources, now have a one stop solution with Storyrocket. There is no one place that consolidates and organizes content as easily and visually, where finding the next big hit is just a few clicks away.
"Today, not only the traditional networks and studios are in competition for great content, but companies like Netflix, Hulu, and Amazon are producing great original movies, shows and series as well.  This trend will continue to grow as new distribution outlets emerge, creating the need for more and more content.  Storyrocket will be here to meet that demand," says Emmy-winning producer and co-founder Ana Benitez.
This technology startup which launched only 2 months ago at SXSW already has hundreds of members and others are starting to take notice. Recently eMerge Americas, the technology conference of the Americas where many tech trends are launched, invited Storyrocket to be one of its select Startup Showcase companies. Their business model was also selected by the Venture Mentoring Team (VMT) a world class team of professionals to foster Storyrocket's growth and investment opportunities.
Storyrocket.com signed its first affiliate partnership with Getty Images. Members will have access to the photo stock site's entire library of celebrity images to enhance their submissions as they fill out their "Cast Wish List" in their project forms.
Storyrocket, however, is not stopping there. Its goal is to have the largest collection of content in the world for the entertainment industry that is easily searchable from anywhere, 24/7.  They understand that great content transcends borders and is adaptable to multiple markets. This has prodded Storyrocket to begin the expansion of the site to multiple languages.  Having launched in English, it plans to be available in Spanish by the fall of 2017.  This will open the possibilities to huge production markets in Mexico, Colombia, Argentina, and Spain, among many others.  Their long-term goal is to have the site available "in-language" for the top 15 film and TV producing countries of the World.