As TV viewers continue to spend more time watching video content via connected TVs and over-the-top (OTT) video services, advertisers want to make sure that they're there, too. While programmatic access to such inventory is the exception today, it will ramp up over the next 12 to 24 months.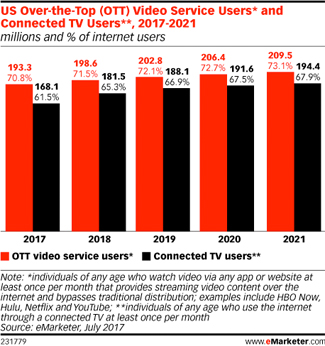 Digital video advertisers are turning to connected TV and OTT to extend their audience reach even further in the digital realm. However, early adopters are finding that pairing digital data with connected TV and OTT ads isn't a simple plug-and-play exercise. Those hoping to benchmark connected TV and OTT performance against standard digital video advertising metrics are also finding this a complex task.
Disney Digital Network creates high quality, digital-first stories and delivers them to Gen Z and Millennial audiences through the platforms and influencers they know best. Add a touch of magic to your next marketing campaign by combining your story with some of the world's most powerful brands.
Traditional TV advertisers are also eyeing connected TV and OTT as a means of recouping audiences lost to digital streaming. Here again, buyers must navigate differences in how audiences are guaranteed, targeted and measured.
Much of the connected TV and OTT inventory that's available programmatically must be accessed directly, from either connected TV device manufacturers or the OTT service providers themselves. More inventory is likely within the next two years, but scale may still be a factor if the ecosystem remains as fragmented as it is today.